Graduating senior Ibrahim Ahmad receives $100,000 Rangel Fellowship, plans career in Foreign Service
Last summer, Ibrahim Ahmad went to Capitol Hill as an intern for U.S. Rep. Darrell Issa. This summer, he'll return to Washington as a State Department Fellow and recipient of the prestigious Rangel Fellowship.
Funded by the U.S. Department of State, about 45 Rangel awards were offered to 900 candidates. The $100,000 scholarship is one of the most exclusive, paying for two years of graduate study and providing two internships, one on Capitol Hill and another at a consulate or embassy. At the end of the program, successful fellows are granted a position as a diplomat with the Foreign Service.
Ahmad graduates in May with a degree in public affairs and minor in peace and conflict studies, then will pursue a Master of Science in Foreign Service at Georgetown University's School of Foreign Service, where he will concentrate on global politics and security. He says his lifelong interest in world events was fostered by his father, an immigrant from Lebanon.
"My interest in applying to the Rangel Fellowship stemmed from my passion for American diplomacy and international relations, and my belief in the importance of promoting peace and understanding between nations around the world, which is especially needed today considering the critical issues being addressed on the international stage," Ahmad says. "I knew that the Rangel Fellowship would offer me a high degree of challenge and intellectual stimulation, both on Capitol Hill as well as in the State Department, which will be advantageous in my pursuit to help advance American interests in the Foreign Service."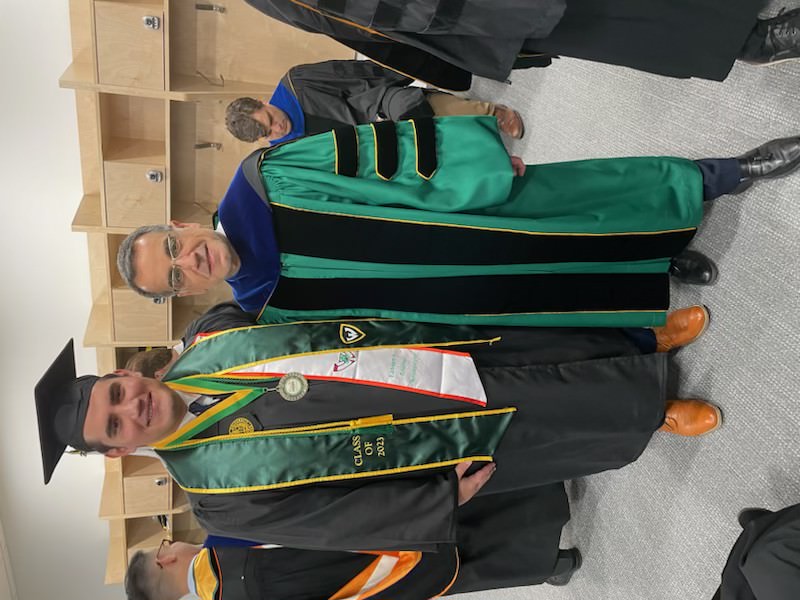 Although not surprised about the award, Vice President Ahmad Ezzeddine, who oversees academic student affairs and global engagement, is proud of Ahmad's achievement.
"Abe is exactly the type of student that many of these nationally competitive awards want to see in the applicant pool," Ezzeddine says. "Many of our students are first-generation, and they may not have the typical background some would expect from an awardee, but they are as competitive as students at Ivy League institutions.
"That's one of the reasons we created the Office of Fellowships. That team, led by Professor Kevin Deegan-Krause, is there to inform students about these opportunities and guide them through the process from finding the right award to applying, honing their essay topics and preparing with mock interviews. We are here to ensure Wayne State students have the support they need to be successful."
When Ahmad began the lengthy application process, he contacted the Office of Fellowships for assistance.
"Dr. Kevin Deegan-Krause provided many resources," he says. "He was very helpful with walking me through the process….I knew that (he) always had my back and would be there for me in any capacity that I may have requested."
Once Ahmad submitted his application, the process moved quickly. He had a week to prepare for an interview with senior foreign service officers, ambassadors and professors of foreign policy, and just one day after his interview, he got the call.
"The fellowship had been at the forefront of my aspirations for almost a year," he says, "so (this) was an incredible honor for me. Speaking to alumni and current fellows during the application process, gaining their insight into their experiences as fellows, or even during their time as applicants, was quite helpful," he says.
"I have a keen interest in American diplomacy in the Middle East and East Asia, so I look forward to studying the intricacies of American foreign policy in these regions and developing the skills I need to enhance U.S. relations across the globe and bolstering our standing on the international stage as a leading superpower," Ahmad explains.
"I am excited to return to Washington, especially now that the power dynamics in Congress have altered after the 2022 midterms, which should make for a very interesting summer legislative session."
Fellowship applications can take a full year to complete so students are encouraged to begin the process as soon as possible by reviewing opportunities on the Office of Fellowships website. Although there is no guarantee of an award, Ahmad encourages any student interested to apply.
"I know it's a cliché thing to say, but you really do miss 100% of the shots you don't take, so apply yourself, have faith in yourself, apply and you never know what happens," encourages Ahmad. "Just do everything to the best of your ability. You never know what you can accomplish."
-- By Patrick Bernas, Office of International Programs editorial associate
The Office of International Programs leads Wayne State's global engagement by creating opportunities that foster international education and research, facilitate the exchange of individuals and ideas that promote global competencies and citizenship, and provide resources that support the expansion of the university's global agenda. Follow us @WayneOIP.