Meet the Mandela Washington Fellows for a free lunch and networking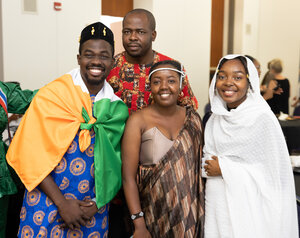 Looking for a free lunch with some incredibly interesting up-and-coming leaders from sub-Saharan Africa? The Office of International Programs (OIP) will make that happen for you!
Wayne State is an Institute Partner in the 2023 Mandela Washington Fellowship for Young African Leaders program. Beginning in mid-June, OIP will host 25 of Africa's bright, emerging public management leaders for a six-week Leadership Institute sponsored by the U.S. Department of State.
The Mandela Washington Fellowship, the flagship program of the Young African Leaders Initiative, prepares young African leaders through academic coursework, leadership training, mentoring, networking, professional opportunities and local community engagement. WSU's Leadership Institute incorporates community partners from non-profit organizations and local government into programming as well as providing myriad cultural activities to exemplify Detroit.
A series of networking lunches is planned and OIP is inviting faculty and staff volunteers to attend and meet the fellows, share a lunch and talk about their professional area(s) of interest. All lunches are 11:30 a.m. to 1 p.m. in the Towers Café.
Topics and dates:
Education: June 28
Youth and gender: July 5
Communications: July 12
Urban development: July 19
Civil/human rights and civic engagement: July 26
You are welcome to attend more than one lunch if the topics fit your interests. Please complete a short online registration form to help us keep track of attendees. Questions can be directed to Professor Jennifer Hart, jennifer.hart4@wayne.edu.
The Mandela Washington Fellowship is a program of the U.S. Department of State with funding provided by the U.S. Government and administered by IREX. For more information about the Mandela Washington Fellowship, visit mandelawashingtonfellowship.org and join the conversation at #YALI2023.